Tahap keenam dari Club del Poker Road to Barcelona berlangsung pada Minggu malam, papan peringkat diselenggarakan oleh grup Facebook Club del Poker bekerja sama dengan PokerStars, yang membagikan tiket untuk Acara Utama EPT Agustus di ibukota Catalan.
Turnamen ini merupakan titik balik karena mencapai dua pertiga jalan menuju papan peringkat. Kini, untuk menentukan siapa yang akan menjadi peringkat 36 besar pertama yang masuk final pada 18 Juni nanti, tinggal tersisa tiga turnamen lagi.
'LICANTROPOn1' dan 'Nicaur1618' di hadiah
Turnamen pada Minggu malam mencatat partisipasi 367 pemain yang mendaftar sebelum 21, mengingat kurangnya kemungkinan pendaftaran terlambat.
62 posisi hadiah yang memberikan 20 poin tambahan untuk papan peringkat: di antara pemenang tahap sebelumnya 'LICANTROPOn1' dan 'Nicaur1618' meraih uang, membuat lompatan besar ke depan dalam klasifikasi umum, seperti yang dapat dilihat di bawah ini .
Kemenangan tahap, untuk hadiah € 91 dan 75 poin papan peringkat, jatuh ke tangan 'ElChaika', yang pada tengah malam memenangkan pertarungan head-to-head terakhir melawan 'frik65'. Berikut adalah pembayaran untuk meja final turnamen:
Pembanding Bonus
Komparator ini membandingkan bonus sambutan yang saat ini dapat diverifikasi di situs operator Italia. Tabel ini memiliki fungsi informasi dan operator ditampilkan dalam urutan acak.
Di bawah ini adalah poin papan peringkat yang ditetapkan untuk sepuluh peringkat pertama: untuk melihat semua poin yang dibagikan pada tahap ini, Anda dapat membuka halaman ini.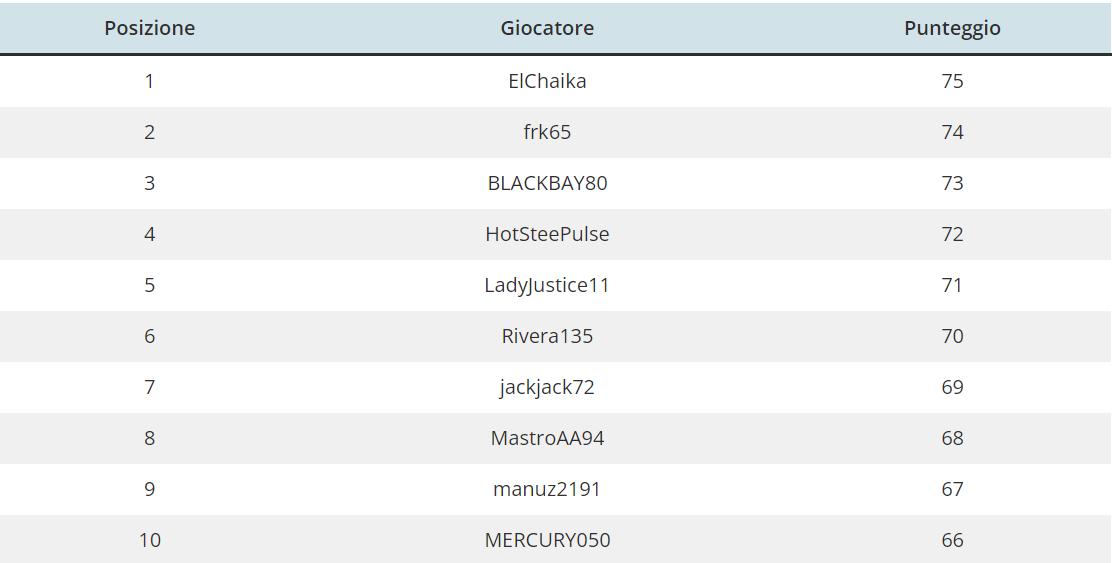 Klasemen dan acara mendatang
Klasifikasi umum sekarang melihat memimpin 'Nicaur1618,' pemenang tahap dengan pengganda dan mendarat di area hadiah di turnamen hari Minggu, seperti yang disebutkan di atas, bersama dengan 'LICANTROPOn1', yang sekarang menempati langkah terendah dari podium di papan peringkat .
Poin Posisi Pemain 1 Nicaur1618 274 2 borotalkooo 264 3 WEREWORMON1 261 4 monster58 252 5 x7_Darkness 237 6 crokka86 231 7 norba's-boy 225 8 macera79 219 9 FalareIntero 218 10 BLACKBAY80 215
Pertarungan memperebutkan 36 posisi pertama yang memberikan akses ke final dengan memperebutkan tiket masih sangat terbuka (di halaman ini Anda dapat menemukan klasifikasi umum lengkap). Apalagi dua turnamen pengganda belum tiba. Mungkin pada akhirnya mereka akan menentukan: inilah jadwal acara mendatang Club del Poker Road to Barcelona.
Tanggal Waktu Buy-in Prize Pool GTD Points Multiplier 28/05/23 21:00 € 1,00 € 500,00 1x 04/06/23 21:00 € 1,00 € 500,00 2x 11/06/23 21 : 00 €2,00 €1,000.00 4x 18/06/23 21:00 Top 36 Entri Acara Utama EPT Barcelona
Di halaman ini Anda akan menemukan fungsi inisiatif yang lengkap, sistem atribusi poin, dan formulir yang harus diisi untuk menerima kata kunci pendaftaran turnamen!